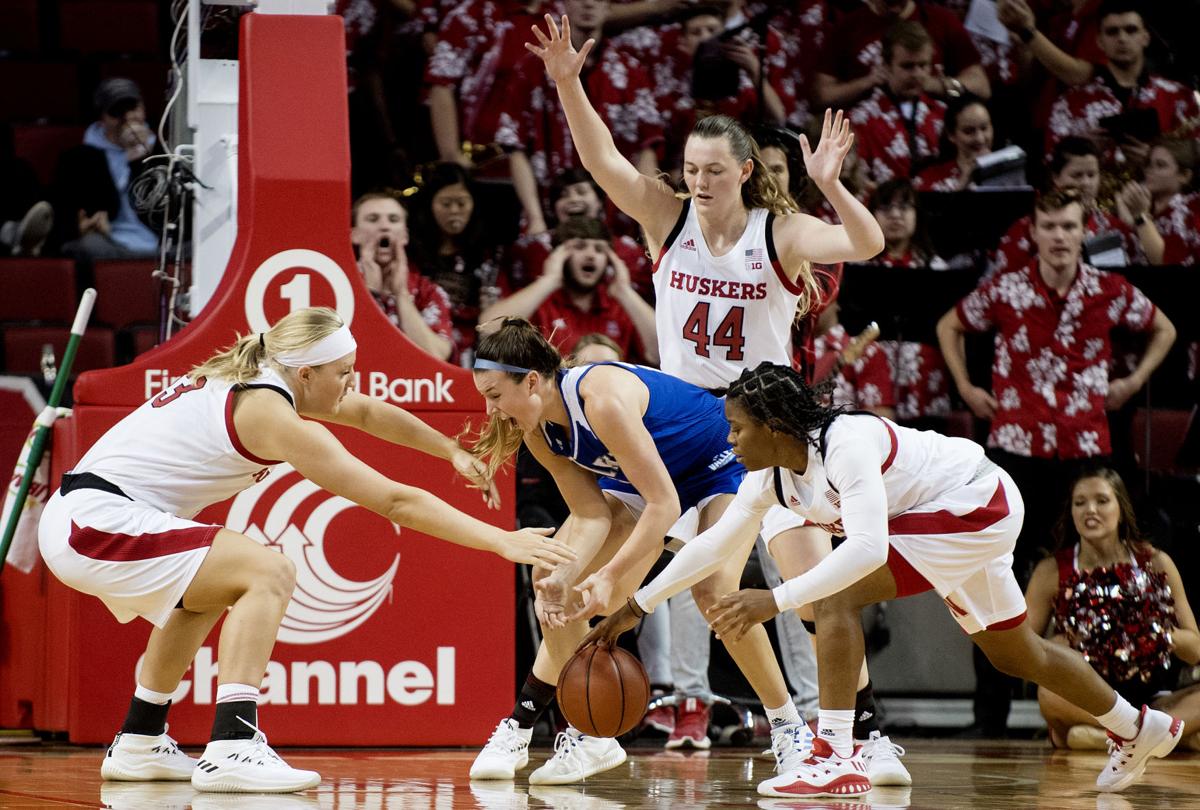 With only 11 players on the Nebraska women's basketball team this season, coach Amy Williams said the team's four freshmen would each get the chance to play a lot, and it sure didn't take long for that to happen.
None of the freshmen are starters, but it was just 2 minutes, 2 seconds into the first game of the season when the first freshman, Kayla Mershon, entered the game. Two minutes later, Leigha Brown came to the scorer's table, and then soon after that Ashtyn Veerbeek and Sam Haiby played. It was just 5:25 into the first quarter and all the freshmen had played.
Nebraska lost the season opener on Wednesday 83-77 against Drake, with the Huskers done in by a rough second quarter. Nebraska will try again for its first win of the season during Sunday's 11 a.m. game against USC Upstate (0-2) at Pinnacle Bank Arena.
Williams has always said it's her preference to play a lot of people a lot of minutes each game, and now in her third season, thanks to a talented freshman class and graduate transfer Kristian Hudson, she looks like she'll have the roster to do so.
Haiby, a 5-foot-9 guard from Moorhead, Minnesota, led Nebraska with 13 points off the bench in the first game. Veerbeek added eight points, while Hudson had seven points and three assists. Brown and Mershon each scored six points, and Nebraska's five newcomers combined for 40 of the Huskers' 77 points.
Williams expects there to be a learning curve, and up-and-down play from the freshmen, but sees a lot to like.
"I thought they did some really spectacular things," Williams said. "There was a group there in the third quarter with Kristian, three freshmen, maybe Kate (Cain) was playing with them, and we made a run and were doing a really good job of attacking the basket with penetration and getting themselves some layups and free throws.
"They sparked us when we really needed an offensive spark, and they played aggressive on the defensive end and got us some tips and deflections, and that's the kind of stuff that we love to see. I have confidence in all 11 players on our roster, and I think that confidence is just going to continue to grow with a little bit more experience."
Veerbeek was one of the Huskers' most productive players with eight points, seven rebounds, one steal and one blocked shot.
Haiby was 4-of-7 shooting from the field, and had three rebounds and two assists.
Haiby and Veerbeek had flashes of great play, Williams said. Now the challenge will be to play longer stretches without making mistakes.
"All of our freshmen have incredible talents that we think we can lean on," Williams said.
Haiby wasn't satisfied because she scored a lot of points in her first college game, though.
"It was all right, I guess, but we didn't come out the way we wanted, so that's never good for anyone," Haiby said. "It's a team sport, so we all got to come together and play together to get that win."
All 11 players played in the first quarter against Drake. Ten players played at least 13 minutes for the game.
It was one thing when all 11 players scored in the exhibition game, but even better when the same thing happened in the first regular-season game.
"Everybody is willing to share the basketball," Williams said. "Nobody has the ball stick in their hands too long, and because of that it's going to be something where I'm going to like our balance this year, I think."