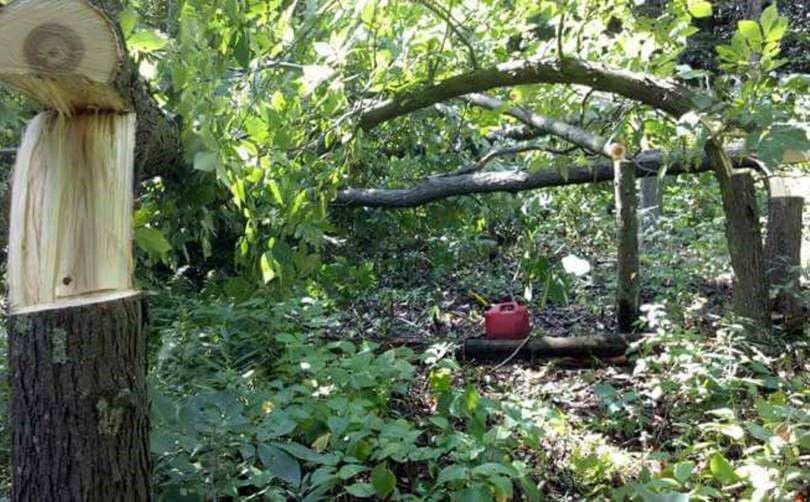 I think this will be a very interesting lesson how to do some creative forestry. The question came in from a reader that owns some well timbered property along the Platte River. The question was, "What is tree hinging and how does that help with deer management?"
Hinging is a unique, if not controversial technique of felling trees. You do not cut the tree down in the traditional since, you cut it just enough to fall over and leave some of the tree alive. The practice of hinging began getting some attention five or so years ago. Hinging is suppose to be a way to create or direct deer travel patterns and/or provide deer more cover and food sources.
Hinging trees is not a random act. You don't walk through the timber cutting just any tree. It takes quite a bit of planning. Trees must be cut in a specific way and a pre-planned pattern. You cut the tree three to four feet off the ground and only cut through 60-70 percent of the trunk. You only want to cut through the tree enough to be able to push/pull it over. The goal often is to drop the tree in a manner that funnels deer into a travel pattern you desire or to create thicker cover and bedding areas.
The mechanics of making a hinge cut are actually very simple when you understand the theory.
By only cutting part way through the trunk, some of the xylary and phloemary elements stay intact. Without getting too deep into plant morphology think of the xylary and phloemary elements as the veins and arteries of a tree.
As long as some of these elements are still intact and functioning, a portion of the tree will stay alive and produce leaves. This provides a lot more natural forage close to the ground making it easier for deer to get to and eat, plus is creates a lot more cover to conceal deer and make them feel protected and have secure bedding areas.
Creating good deer habitat with this method can be done, but it takes a lot of thought and work. You also need to be the lucky person who owns this type of property or have permission to do so on private property. This is illegal to do this on any public land in Nebraska.
This refers to a type of fishing where you simply tie a line and hook on a big float of some type, a milk jug or even a commercial product like the "Fish-A-Noodle" that has been sold at Wal-Mart. It became illegal to fish in this manner in Nebraska waters a few years ago, but I didn't know the official reason (although I had a guess). To get an answer from an expert, I turned to NGPC Fisheries biologist, Daryl Bauer.
 "Jug fishing is not legal in Nebraska", Bauer said. "At one time there were some waters in the state where jug fishing was legal, but then folks would put their jugs out and just forget about them. At that point those jugs became nothing more than trash on our waters. It became enough of a problem that the Commission made the practice illegal."
That was the hunch I had. Over the years I have pulled many float jugs out of the water that had obviously been in the water for an extended period of time. In a couple of instances the skeletal remains of a fish were still on the hook at the end of the line. Is it any wonder why this method of fishing was banned?
If you are tired of being cooped up due to Covid-19 concerns, and a road trip sounds fun, consider this:
I was talking with Jon Bauer earlier this week. Bauer is the owner of the Merritt Trading Post near Valentine. He tells me that the fishing is picking up that there. Walleye, musky and northern pike are providing a lot of action. Bluegill and catfish always seem to provide some action as well.
Merritt is known as a place to use leeches for bait. A slip-bobber set up in 6 - 10 feet of water near a weed line up the Snake River arm is a great place to start. The Powder Horn arm of the lake has been where most of the northern pike and musky has been reported. Big spinnerbaits along the face of the dam have also produced some big catches. Call Bauer at 402-376-3437 to get the latest scoop on the fishing at Merritt Reservoir. He also has cabins available for rent.
Have a great and safe week outdoors!
Be the first to know
Get local news delivered to your inbox!