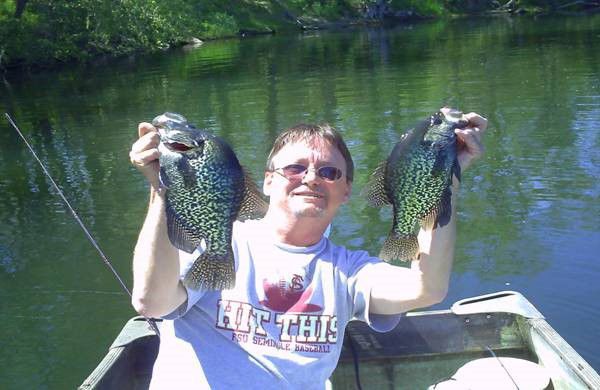 Say crappie and most anglers think of springtime fishing. However, don't overlook crappie fishing as an option during the summer. You just need to alter your tactics.
In the spring, crappies are typically in the shallows. You find them around docks and brush piles in 2 to 5 feet of water. Now, you need to look for crappie in deeper waters.
Nebraska has some good crappie fishing waters. For anglers in and around Beatrice, Werhspann Lake, Branched Oak and Czechland Lake have good crappie populations and are within an easy drive from home. Never overlook a private farm pond that is said to have crappie if you get invited to fish it!
A good sonar and knowing how to read it is critical for crappie fishing this time of the year. Find the deeper water channels, then follow them and look for schools of fish suspended about half way down to the bottom. Once you find them, stay on top of them. I call this my cover and hover technique.
One of my favorite rigs is the "Heavy Metal" rig that professional crappie anglers Jeff Powless and Bob Barnett showed me how to use. It is basically a spreader rig, but it has a very big weight on it, maybe up to ¾ ounce…a lot more weight than you would normally think of for crappie fishing. The big weight keeps the rig hanging straight down and it often reflects back on the sonar so you can see right where to put the bait.
Another favorite technique of mine is to toss a white marabou jig or single gold Aberdeen long-shanked hook tipped with a minnow. I like 1/16 and 1/8 ounce jigs that sink slowly. With live bait I like slip bobbers.
As soon as I find that school of fish on my sonar I drop my bait down and hold it just a few inches above the top of the school. I believe a presentation like this incites competition. If it looks like an easy meal, some fish will go after it before his "buddies" do.
On one particular fishing trip my sonar showed crappie hovering around what appeared to be a submerged tree. They were suspended in the upper branches of the tree in about 12 feet of water. I dropped my bait down to a depth of about 10 feet. Almost instantly I had a bite.
Each time I got my jig back to that depth I had another bite. I picked up a nice stringer of crappie that afternoon! You may want to put crappie fishing on your list of things to do in the next few weeks.
With Nebraska State Park campgrounds opening back up, more people will be camping and that means more campfires. First you need to make sure campfires are legal where you camp. Not all campgrounds allow campfires.
Also check to see if you must have campfires in designated spots. Many parks and campgrounds only allow a campfire in specific locations and pre-built fire rings. These campfire sites are where they are for a reason! Don't go off and build your own and create a fire hazard.
Campfires attract kids like your camp lantern attracts bugs. Make sure younger ones are constantly supervised around the fire and keep a big bucket of water handy. A bucket of water is great to toss on a fire getting out of hand, but even better to have handy if someone burns their fingers, a hand or worse.
First aid practices tell you to immerse the burned part in cool water to minimize the damage to deeper layers of tissue. I've had to use this treatment a few times, for myself and my campmates.
My best example was when a camp buddy stumbled and fell backwards into a fire. He rolled out quickly, but his clothing was on fire. Another buddy in camp grabbed or designated water bucket near the campfire and dowsed our friend and mush of the fire. Minor second degree burns and blisters hurt, but it could have been much worse!
Have a great week in Nebraska's outdoors!
Be the first to know
Get local news delivered to your inbox!