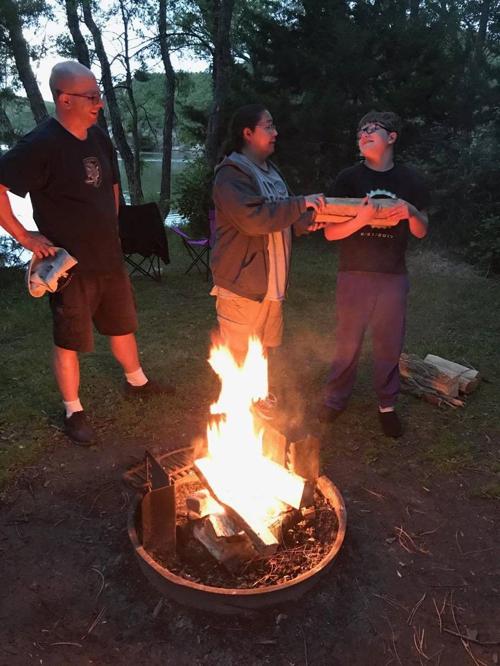 I was recently up at Merritt Reservoir to do some kayaking and fishing. I had an opportunity to talk with a family who was visiting northwestern Nebraska for the first time. Jack Irons, his wife Ruth and their son Jackie trekked across the state from Lincoln. Camping is one of their most fun family activities and they decided to try something different. They also did some boating and river tubing while in the area.
"This is our first time to visit Merritt Reservoir and our first time to camp this far north in Nebraska," said Jack. "We couldn't have asked for a better campsite. We were just looking at the map when we made our reservations online. We had no idea what the area looked like."
"The online reservation process was really easy," Ruth added. "We do a lot of camping as a family and with scouts…places like Pawnee Lake, Branched Oak, and Stage Coach Lake. They are far enough out from Lincoln to get away from city noise and lights. You still get a feeling of the outdoors, but nothing like this! I really like the scenery around here and the drive up through the Sandhills. I love the Sandhills!"
"Our campsite is spacious. There is plenty of room between our tent and our vehicle, plus there is a lot of trees and vegetation that screens us from other campers," Jack said. "On top of that, our camp is right on the water and we can fish right here."
"We have really felt safe here, too," Ruth added. "We've had nothing messed with or stolen, no people wandering through our camp. You don't find that at Branched Oak Lake."
"It is much more peaceful here than what we're used to. Even with the number of people who are here, they are not as loud as the groups at Branched Oak," Ruth continued. "You may hear other campers here, but everyone quiets down by 10 o'clock. That's nice!"
"The stars here are amazing!" Ruth stated. "Without any city lights, we saw the Milky Way rising over the hills and the trees. You never see anything like that in Lincoln. We saw a couple of satellites and I think we saw the Space Station pass over. It has been great!"
I asked 14 year old Jackie what his favorite parts of the trip had been.
"My favorite thing has been to go swimming. I really liked going tubing on the Niobrara, too," Jackie said. "I think this is my favorite place I have ever camped of the places I've been. I want to come back."
From all indications that I picked up on, I think the chances of the Irons family getting back to Merritt Reservoir is pretty good. I'm glad they had a good time and I hope they had a safe trip back home.
The upcoming Fourth of July weekend is traditionally one of the busiest boating times on the water in Nebraska. Thousands of Nebraskans will be boating in one form or another this weekend, so let's make it a safe one.
As a former Boating Law Administrator for the Nebraska Game and Parks Commission told me once, "Don't booze and cruise." Statistically, alcohol is a contributing factor in about 70 percent of boating accidents. And being out on the water compounds the effects of alcohol.
Motion and sun actually make the effects of alcohol on your senses more pronounced. In short, whatever it takes you to get impaired on land, it only takes half that much to be physically impaired on the water. Nebraska averages five boating related fatalities a year. Don't become another statistic!
A few other safety and legal tips from the Nebraska Game and Parks Commission are:
• Children under 13 years of age are required by law to wear a life jacket while at all times onboard a boat. It is recommended that everyone onboard a boat wear one.
• No one under age 14 may operate a motorboat.
• Observe the 30-yard law. It applies to all vessels and prohibits operation at speeds greater than idle speed within 90 feet of any vessel, harbor, marina, swimming beach, landing pier, fishing pier, or anchorage.
• Do not overload your boat with people or equipment.
• Use navigation lights at all times when on the water at night. Check lights before it gets dark.
If you want to learn more about boating safety courses and safe boating in general, go to www.outdoornebraska.org and click on the Education tab, then go to the boating page. Have a safe weekend on land or water!
Be the first to know
Get local news delivered to your inbox!