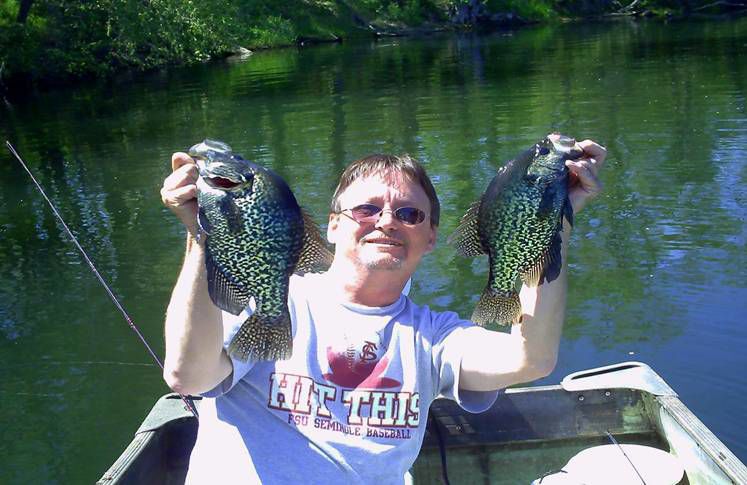 Springtime is crappie fishing time in Nebraska. As soon as water temps start getting near 55 degrees, crappies get more active and begin to feed more heavily. I hearing that we may be getting close. Feed then spawn…crappies spawn at 58-60 degrees. Another cycle of life for these fish begins.
Crappies are a highly prized fish for many anglers, but it is often tough to find them. To get a few pointers on this, I went to a Pro, Jeff Powless. Until recently, Powless was a professional tournament angler who lives in Nebraska. Crappie fishing is generally thought of as "a southern thing", but he and his fishing partner, Bob Burnett were one northern-most professional crappie angling teams in the country. I've had several opportunities to fish with these guys and they do know what they are doing.
To get some insight on crappie fishing, I asked Powless some questions. My questions will appear in bold print and Powless' answers will follow:
Where should you look for crappie in the spring?
In early spring crappie will move into very shallow water at times. If your lake has shallow coves on the north and west sides of the lake, start checking those areas very early. Those coves receive maximum sun light in the spring and may warm quicker than the main lake. This promotes algae growth which draws the bait fish and the pre-spawn hungry crappie will follow. I've found crappie in less than two feet of water a week after ice out in areas like this. The fish will remain in or near these areas until the spawn on many lakes. This is a good time for easy access for bank anglers as well as boaters. Pre-spawn crappies often suspend and stage near the mouths of major creek channels in the larger lakes. By the time the spawn is nearing they will move into those creeks and can be found from 1 to 20 feet deep on cover. This is the time most anglers consider to be the season and the fish are hungry and very active.
What type of structure do crappies tend to relate to?
Crappies relate to any cover they can find; brush piles, fish attractors, stumps, standing timber, bridge pilings, docks, rock and rip-rap all hold crappie. Brush piles and lay downs are probably the number one type of cover. The fish will move up and down in the water column depending on weather conditions, water temperatures and clarity but will almost always be on some type of cover. I've caught crappie off brush as deep as 30 feet and as shallow as one foot. I've found that often the fish will be suspended in 8 to 12 feet of water over a 20 foot or deeper bottom on larger lakes. That is a time when trolling jigs or crankbaits can bring phenomenal action!
How do low water conditions affect your approach to crappie fishing?
Not they we have to worry about this this year in eastern Nebraska, but low water can be difficult to fish at times. With most of the traditional cover out of the water the fish often will relate to different types of cover. Creek channels and even small humps and depth changes can be the area holding many of the fish. Crappie will hold just below the top of a hump or drop-off ambushing bait fish that pass over them. I have been fishing an area at my favorite lake, in low water, that has a quick drop from 7 to 12 feet as you pass over the creek channel. Just as you pass over that drop is when the bite occurs. Another good spot in low water conditions are the submerged weed lines. Often crappie will hold just on the outside of those weed beds when no other more traditional cover is available. With most of the cover out of the water, things that seem almost too small to hold fish can be a bonanza. I can recall single cedar trees and even single sticks that were holding hundreds of crappies in low water conditions. There are good things about low water. Often brush, weeds and other cover will grow on the lake bottom providing great cover once the water returns to normal levels. Harlan County Reservoir is still seeing some benefits from their last low water cycle.
When is trolling a productive technique for catching crappie?
Sometimes trolling is the most productive way to catch crappie. Trolling is great anytime the fish are suspended. Trolling jigs or crank baits can be very productive. As mentioned above the pre-spawn fish often suspend outside the major creek channels and they will return to those same places during the heat of the summer. When the fish are active, simply trolling over a brush pile that you would normally be vertical jigging can be dynamite fishing. I know tournament teams that do nothing but troll jigs three feet deep every time they hit the water, at every tournament, and they are very successful. My partner and I often trolled at spawning time in areas that we know hold fish and have great success. And don't forget long-line trolling, running jigs 100 feet or more behind the boat while slow trolling. That method can be very productive and I tend to use bigger, three-inch jigs, when using this method.
Go to the pros, when you want to know.
Be the first to know
Get local news delivered to your inbox!