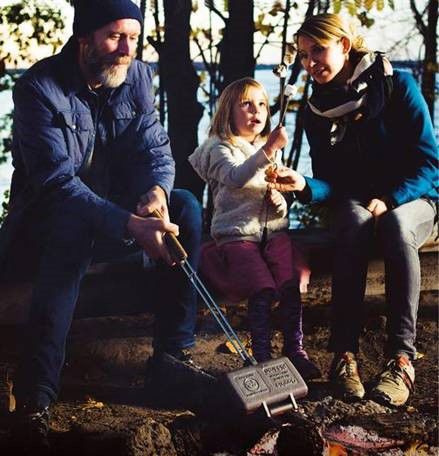 With many restaurants closed or being very limited in the number of people they can seat due to Covid-19 concerns, going out for dinner may not be practical right now. Yes, there is the drive up option at some locations, and I support the concept of take-out Tuesday. But, sitting in line to pick up your meal just doesn't replace the ambiance of sitting together while the meal is being prepared. You can make it even more fun when everyone gets involved in the making of the meal.
So, why not gather up the family and all your ingredients and have a cook out in the back yard? You don't need a fancy outdoor kitchen set up, you can use your patio grill, a hibachi, or even a small campfire will work fine and you can share some family fun.
You do need to check local ordinances to see if you can have a fire and if so, select an appropriate place to make a campfire. First, find a spot that is away from other combustible materials. Don't forget about trees or anything else that will be above your spot for a campfire.
A simple hole in the ground for your wood or charcoal will do. The dirt you take out of the hole should be mounded up around the fire pit to act as a border to keep the fire from spreading. It is also a good idea to have a bucket of water or two handy to douse a fire if you have problems.
To enhance your safety features, you can surround your campfire area with rocks, bricks, cinder blocks, landscaping blocks or a metal ring. Your imagination is the only thing that limits you. When it comes to the actually cooking, you don't need anything fancier that a long stick to roast hot dogs and marsh mellows!
One of my favorite ways to cook over a campfire is to use a Pie Iron. A Pie Iron is made up of two pieces of cast iron that hinge together with a small space between them. Pie Irons have long metal rods with wood handles at the end to easily hold the Pie Iron over a campfire. Filling the space and cooking whatever you've put together is the fun part!
The original Pie Iron was introduced in 1964. There are lots of imitations on the market and you can find this style of cooker in cast iron (like the original) and aluminum. I would not recommend aluminum because it tends develop "hot spots" very quickly and burn your food.
For young cooks, the Pie Iron may be the perfect way to make grilled cheese sandwiches, personal size pizzas or a fruit pie over an open fire. This is done by placing the food, in this case, two pieces of buttered bread with cheese, pizza toppings or fruit filling, inside the cooking compartment formed by the pair of metal castings that are hooked together. A few minutes over the flames or coals and a perfectly toasted sandwich, pizza or fruit pie can emerge.
Check out the Pie Iron website at www.pieiron.com. I guarantee that you will have a blast cooking this way in your camps.
Pie Irons are not the only way to cook a meal in the backyard. One more recipe you could try for your night out…Grilled Fruit. You will need some kind of grill or heavy wire mesh to sit the fruit on while it cooks.
The ingredients consist of a couple of cans of halved fruit. Peaches and pears work great. You will also need a bottle of Treches chili powder. This chili powder is the secret to a very unique dessert treat. You can find it in many supermarkets with the Hispanic specialty foods. If not, you can order it online at Amazon.
To make this campfire treat, let your wood burn down until you get a bed of coals. Set your grill or heavy wire mesh a few inches over the coals.
Lay out your fruit halves and sprinkle on Treches chili powder. Place fruit halves on the grill and sear one side. Don't overcook and totally dry out the fruit, though. Flip the fruit after a minute or so, sear the other side, and sprinkle on a little more chili powder.
The end result is a juicy and spicy treat that may be the hit of your night out. As an option, add some shredded cheddar cheese to your pears when you flip them and grill long enough to let the cheese melt. Delicious!
The weather looks good for the next few days, so try a night out in the back yard if you are feeling a bit cooped up. We will be over this pandemic soon and get things back to normal.
Enjoy your time outside and stay safe and well!
Be the first to know
Get local news delivered to your inbox!