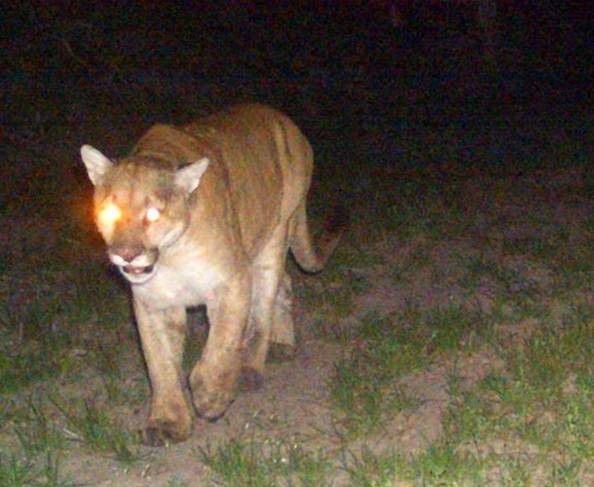 It is no secret that mountain lions are in Nebraska. They are here, and they are probably here to stay.
I get a couple of calls or emails a month from readers who tell me they have seen, or seen evidence of mountain lions. In the majority of these cases, the people involved seem very sure of what they saw and offer observations that are credible.
A question I get quite often is, "Why are mountain lions here?" A little bit needs to be said about the biology of these cats to begin to answer this question.
Mountain lions are known to live in many different types of habitats in North America. They are at home in the deserts of the southwest, swamps and in forests up to 10,000-foot elevations. While they don't like to live next to humans, it seems like they are learning how to better cope with humans and exist on the fringes of civilization.
What a mountain lion needs is very similar to what any wildlife species needs: food and a place to seek shelter. Shelter in Nebraska can be the timber of river bottoms or any spot in the outback of the state's rugged and remote regions.
"How close are mountain lions to where I live?" is another question I hear. The Nebraska Game and Parks Commission (NGPC) has a map showing where mountain lions sightings have been documented in the state. You can pull this map up by going to, https://maps.outdoornebraska.gov/puma/.
For years I've heard stories of a mountain lion being in the hills and creek bottoms around Salem. I've heard similar accounts of big cats being seen along the Blue River near Wymore. Everything a lion needs to survive is available in either locale, but no sightings have been documented and put on the NPGC map that are in the immediately vicinity of Beatrice.
However, think about where you live. Are there any places near your home where thick cover exists and not many people visit the area? Most people can answer yes. That is one part of the equation.
Next, mountain lions need food and deer are one of their main food sources. Does Nebraska have a decent deer population? Absolutely!
Now, I'm not saying that there is a mountain lion under every bush, but they have everything they need to live here, and in relatively close proximity to humans.
Mountain lions are the second largest predator cat in the Americas. Only the jaguar of Central and South America is bigger. An adult male can be eight feet long from nose to end of its long tail. A healthy male adult can weigh 130 and 150 pounds. Female mountain lions are typically smaller, seven feet long and 65 and 90 pounds.
Mountain lions are territorial animals and will travel quite a distance to establish their own home range. One account I reviewed was that of a mountain lion radio collared in the Black Hills of South Dakota and it traveled roughly 700 miles in a few months before it was hit and killed by a train in Oklahoma. This cat traveled across Nebraska and Kansas, multiple rivers, several Interstates and a host of secondary roads and railroad tracks…..pretty amazing when you think about it.
Would you care to see how a mountain lion hunts? Watch a domestic cat hunt birds or rabbits. The techniques are very similar. A mountain lion will remain silent and virtually motionless with their ears upright and trained forward. It will conceal itself near any available cover for a surprise attack while stalking its prey. In the wild, the prey often never sees the lion before it rushes or springs onto its quarry.
The mountain lion is currently considered a game species in Nebraska with a limited season. The season is set by the NGPC based on population estimates and whether a given population can be sustained if hunting is allowed. Mountain lions are not to be shot out-of-season unless it is aggressive towards livestock or people. However, if you do shoot a mountain lion, you must notify the NGPC. Be prepared for the incident to be investigated thoroughly!
If you do happen to see a mountain lion, contact the Nebraska Game and Parks Commission and give them the details. They have an obligation to check it out and determine if the cat poses any danger.
Be the first to know
Get local news delivered to your inbox!