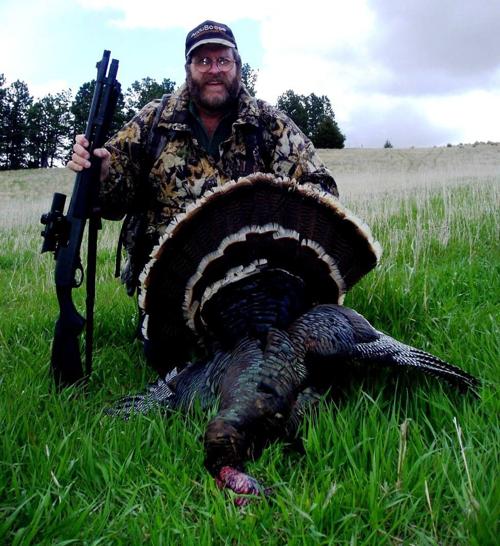 Nebraska's spring turkey season is still going. You have until May 31 to complete your hunt for a gobbler. Good Luck!
I think every turkey hunter has a desire to have the "perfect" turkey shotgun. I found myself in a situation where I needed to build up a new turkey gun. It all began a few years back when I hosted a still target competition before the fall turkey season. I had a turkey gun that had all the bells and whistles and brought it to the match for anyone to shoot and see what a few select options and accessories can do to improve a shotgun's performance.
A lot of folks tried it and liked it. Unfortunately I lost track of who had the gun last and where it went. Whoever used it last set it on the roof of my vehicle in the cargo rack. I didn't see the shotgun there when I drove off and didn't even think about it until I heard it slide off the roof at 60+mph. I caught a glimpse of it as it slid past the rear window and off the back of my vehicle.
The shotgun probably would have survived the fall and slide down the highway…it would have been scared up and a bit ugly. I think it would still have been able to shoot yet, my hopes for that ended when a pickup behind me ran over it and literally smashed it into pieces.
The following year I began my quest for a "certified gobbler stomper" to use in future hunts. I began with a new Remington 870 Tactical model. This shotgun comes with a black parkerized finish, extended magazine, picatinny rails (for attaching accessories) ghost ring sights, swivels and a sling. To future enhance the shotgun I added a Weaver Red/Green Dot sight system and a Carlson choke designed for long range turkey hunting.
Practice and a lot of turkey targets showed me that the gun liked Federal 3-inch magnums with a buffered two ounce #5 load. My patterning and testing told me this shotgun was capable of making 65-plus yard shots.
When the spring turkey season arrived I was invited to hunt some cedar canyons in western Nebraska. This is open country with some cedars, cottonwoods and a few pine trees, but most of the "cover" I had would be from yuccas and the lay of the land. Stalking up to a gobbler on open ground is almost impossible. I was glad I had a shotgun that could reach out a ways just to meet this challenge!
I had been scouting several groups of birds for a few days and figured out a pattern. The birds traveled through a certain area in one particular canyon every afternoon. I would try to sneak in on the biggest gobblers the next day.
I was in place a couple hours before the birds were due to move through. I tucked myself under a cedar tree. I cut a few more branches from the back of the tree and stuck them in the ground in front of where I'd sit for some added screening.
This spot was the closest cover for a hundred yards but my scouting had told me that the turkeys passed within 30 to 60 yards of this tree every day. I began my wait.
It seemed like hours, but I finally saw the turkeys come over the ridge and move into the valley where I sat. I decided not to use any decoys for this hunt. Where I hunted the birds saw very few humans and had probably had never seen a decoy. I didn't want anything to look out of place.
The small cluster of hens slowly worked their way toward me. A pair of big toms followed 50 or so yards back trying to get their attention. I could hear their calls. I turned on my scope and made sure I could see the red "target" in the reticle.
Every few minutes the pair of toms would trot forward to get closer to the hens and go into full strut. While strutting, they would boom out a couple gobbles. Even at a quarter mile away, the toms were impressive.
The wind was in my favor and I debated on calling. I tentatively made a few cutting calls and both toms raised their heads and looked down the canyon. I waited a few seconds and called again.
The toms broke off of their struts and began running my way. It was a race now to find the lost hen they heard. Neither tom was going to let the other be first! I clicked off the safety and focused on the bigger of the two gobblers. The gobblers kept coming and slowed to a walk about 50 yards away and gobbled. They were looking for the hen I imitated.
I made a couple of soft purrs with my mouth call and saw both toms turn toward me. Both went into their strut again and I could hear them drumming. They turned and took a few steps away from me. As soon as the biggest tom turned again and gave me a good profile I pulled the trigger. The practice and patterning paid off. There was no doubt, this tom was down. I stepped off 53 paces to the gobbler. He weighed 23 pounds and had a 9 ¾ inch beard.
I'm going to try and not let this shotgun get destroyed by stupidity. I hope you're having success in what remains of your 2020 spring turkey hunting season.
Be the first to know
Get local news delivered to your inbox!