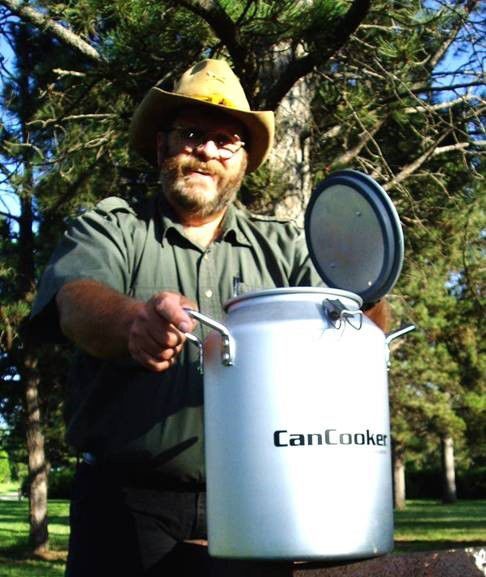 Have you ever heard of, or done, cream can cooking? It is a very unique form of cooking and is tailor made for summertime camp cooking and feeding a lot of people easily. It is perfect for cooking up unique and delicious meals for a 4th of July weekend like we just wrapped up.
The concept is simple: get an old cream or milk can, stuff it with whatever you want to eat, add a little liquid, set it on a fire until it steam cooks everything. The hardest part may be finding the cream can. These cans are considered "collectable items" by many and the price if you find one may be more than you'd want to pay for something you're going to throw on a fire.
Enter the CanCooker. It is a modern version of the old cream can and a lot less expensive! The company is out of Omaha, so that is another plus in my book. I like showcasing Nebraska businesses. Check out the website: www.cancooker.com [cancooker.com].
The CanCooker is a product of the imagination of Seth McGinn, a businessman, rancher, outdoorsman and big fan of collegiate and professional sports. McGinn was familiar with the concept of cream can cooking and saw a need for a product that would be easy to use, easy to clean, easy to transport, inexpensive, quick to cook with, and be able to provide a lot of food in a healthy fashion. The result is the CanCooker.
The CanCooker meets all the criteria McGinn had considered. It is made of heavy gage aluminum so it is rugged and doesn't require much for maintenance. The large size stands 16 inches tall and 10 inches in diameter with sturdy handles riveted in place. Weight is about 4 pounds and comes with its own storage bag. A smaller model is also available. I have both and use them often.
If you can cook it over a fire, you can use the CanCooker to make it. Soups, stews, chili, steamed seafood, Cajun style…..you name it…the CanCooker is up to the task.
One of my basic recipes for this kind of cooking is very simple, but it tastes great. I start with about a dozen ears of sweet corn, cleaned and cut in half. I stack the corn upright in the bottom of the CanCooker.
Next I add in my veggies: carrots cut into 1-inch hunks, skinned and quartered sweet potatoes and onions. Just layer the veggies in on top of the sweet corn. I toss in a couple of sticks of butter and then lay in several rings of a Polish or Kielbasa style sausage.
You have to have liquid in your CanCooker to get the steam cooking action. You can use water, beer, or a wine. I've used a sweet Riesling wine or a sangria with excellent results. I use 2 to 3 quarts of liquid in my recipes.
Put on the lid and get the CanCooker on the fire. As soon as you see steam venting from the hole in the CanCooker lid, look at your watch. About 15 minutes from that point, your meal should be ready. You can feed 10-12 people with the large CanCooker and this recipe.
Have you ever fired a .22 sub-sonic round? They will surprise you. They are easy on the ears. You will be amazed at how quiet they are. I picked up a box of Aguila Super Colibri 22 LR ammo recently. Aguila is one of the largest .22 rimfire manufactures in the world. They are based in Conroe, Texas…some of my old stomping grounds.
Aguila Super Colibri Ammunition is quite unique. It has no powder charge in it like a traditional .22LR cartridge. It is especially made to use only the primer to propel the bullet down the bore. It is perfect for indoor target practice or close-range pest control.
Aguila packages this as Long Rifle ammunition. They have a 20 grain solid lead bullet, about half the weight of a standard .22LR bullet. They are also about half the size of a standard .22LR bullet so the overall cartridge is slightly shorter than the .22LR round you are used to seeing.
You do need to fire it out of a revolver or single shot pistol though…there is not enough power in shells to cycle the slide of semi-auto pistols or rifles. If you shoot it in a rifle you better make sure you see the bullet hit downrange or check your bore before firing again. I would double check to make sure the bullet it made it out of the barrel.
Cost of the Aguila Super Colibri sub-sonic round is about $5/box or about $50 for a brick of 500, if and when you can find it. Like all other ammo today, it is sometimes just tough to find.