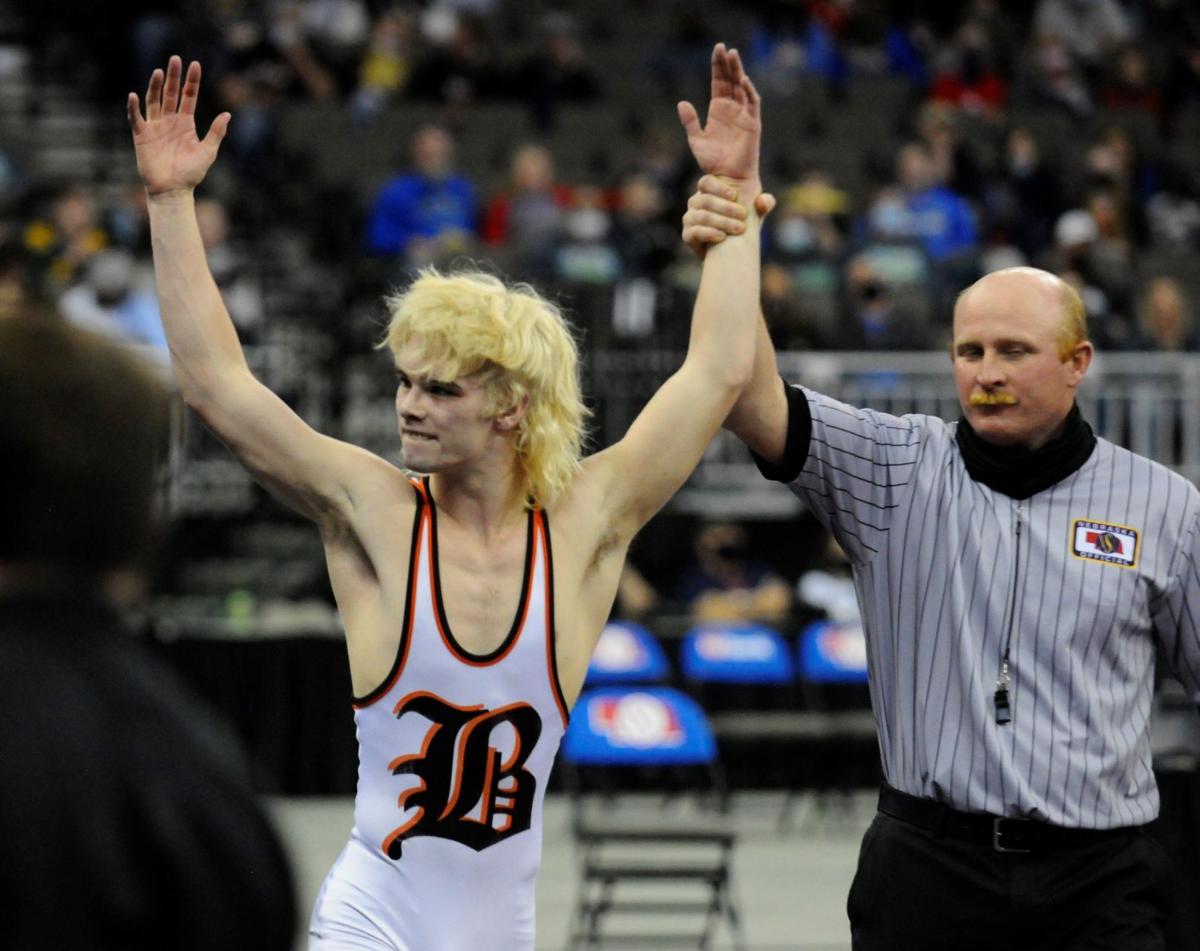 OMAHA — In the last six minutes of his high school wrestling career, Drew Arnold joined a large but elite group of athletes to win an individual state championship in Nebraska.
At the same time the Beatrice senior joined a small but very special group of three state champions in his family.
His uncle, Scott Arnold, and grandpa, R.D. Arnold, were each state champions for Wymore, which is now Southern. Scott Arnold has passed away, but Arnold's grandpa was at CHI Health Center Omaha on Saturday evening to welcome his grandson to the state champions club.
"It's awesome," said Drew Arnold. "Last year (Grandpa) told me, 'I'd rather have you win it next year. It'd be exactly 50 years after mine.' So I've thought about that every day since he told me that. It's really special."
Arnold beat Malachi Bordovsky of Wahoo 7-0 in the 132-pound final.
Arnold got his championship after finishing third, fourth and fifth in his three previous state appearances.
"I knew I could get it done this year if I did everything right, and did everything the coaches told me to," Arnold said.
Arnold won his title on his 18th birthday. Arnold, who will keep wrestling at Nebraska-Kearney, had a 43-1 record this season and 162-21 for his career.
Debris falls from plane in emergency landing near Denver
Arnold said one of the best things about winning is knowing the sense of pride those back in Beatrice must be feeling.
"I think most of the Beatrice community was watching me and (Beatrice finalists Trevor Reinke and Torrance Keehn)," Arnold said "They like wrestling. It's just awesome."
It was a special stretch of about 15 minutes for Beatrice, with Arnold and Reinke winning state titles one after the other on the same mat.
Reinke, a junior, is already a two-time champion after beating Adam Kruse of Omaha Skutt 3-1 in the 138 final.
There were 48 teams that sent at least one wrestler to the Class B state tournament. Most of them didn't even get one champ, and Beatrice got two in about 20 minutes.
"It's pretty dope," Reinke said. "To have another state champion in the (wrestling) room, that's pretty sweet. That just shows the level of competition at Beatrice."
Beatrice had five medalists and finished in the top three of the team standings.